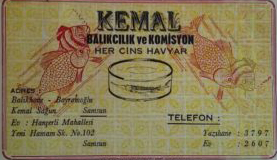 Huseyin Sagun was earning his living by fishery in 1950s. The ones, who were earning their living by fishery, were known by their names, were the fishermen of the fish they hunted and used to sell the fish to the families they had known. Huseyin Sagun was a classical fisherman like the other ones and used to earn his living by selling the fish he hunted in Samsun Fish Market via agents. 
Kemal Sagun carried the company to Istanbul by deciding upon developing the business that he learnt and took over from his father and he established Kemal Fisheries Company in Kumkapi. He went to France by understanding the importance of exportation while he was dealing with fish trade in Kumkapi and he started fresh fish exportation to this country. Upon popular demand coming from the customers and by focusing on the frogs, he determined that the frogs appropriate for exportation were in Adana and Ipsala Region. Then he started both live and processed frog exportation to France by focusing on the frog business. By establishing process facilities in Adana and Ipsala, he laid the foundations of industrial, productive and exporter principles that the company would have in the future. 
The third-generation manager of the company, Ahmet Tuncay Sagun took the business he took over from his father to another level and transformed the companies into a single enterprise as Group Sagun.