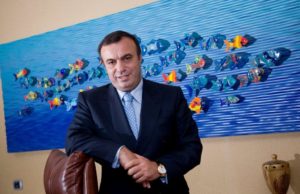 Fishery starting in Samsun…A. Tuncay SAGUN, who is chairman of Group SAGUN executive board, is a name that he transformed Kemal Fisheries that he took over from his father, Kemal SAGUN into Group SAGUN having 5 companies in Turkey apart from 8 companies in its body; 5 in separate regions and 15 separate facilities, production facilities in 3 different countries. The biggest factor in this achievement of Tuncay SAGUN, who succeeded in his sector, is his love towards fishery. Group SAGUN, which is under management of Tuncay SAGUN and presented among important companies of the world, broke a record in its field by carrying out 386 sorts of production. Today, Group exports %70 of its production with the source of 1.500 people. Group SAGUN, which entered into the biggest industrial enterprises of Turkey with its rich product portfolio and services in its all fields of activity, hold the leadership in its own sector by ranking among 500 companies that carried out the most exportation. Group still carries out direct exportation to 35 countries including Europe and Japan.

 

With the companies in Group SAGUN, Tuncay SAGUN, who transformed fishery into industry, is active in each stage of fishery from hunting to farming, from processing to storing, from importation to exportation. Tuncay SAGUN, who determined the speciality of Group SAGUN as only aquaculture products, has entered into ready-to-eat aquaculture products for domestic and foreign markets with Marines brand within the direction of this aim. With Group Marines brand, he is the market leader in frozen aquaculture products with the share of %38. Marines, which is a total specialization brand, has already taken its place in the most popular brands of Europe.

 

Tuncay SAGUN, who made Kemal Fisheries the biggest group of Turkey in 20 years,

aims to make SAGUN a brand known globally. Apart from a businessman identity, A. Tuncay SAGUN held the responsibility of Presidency of Istanbul Aquaculture and Food of Animal Origin Exporters' Association for 12 years and is still the Vice President of Istanbul Aquaculture and Food of Animal Origin Exporters' Association and carries out his duty for membership of Council of Exporters' Assembly Sectors for Turkey. 

Tuncay SAGUN, who was born in 1963, is married and a father of two children. 

Details from Tuncay SAGUN's success story…

He established the first Tuna farm in Turkey.
He created Marines that is the only specialization brand for aquaculture in Turkey.

 

He established the first live frog farming facility.

 

He launched production facilities in Greece, Egypt and Libya.

 

He became Turkish partner of Mitsubishi, which is a world leader in its field.

 

His farm in Antalya got ISO 9001 Quality Certificate in 2004 and he established a tuna farm having ISO Quality Certificate in all Mediterranean Region.

 

He established one of the most modern fish processing and storing facilities of Europe and Turkey in Urla in 2015.

 

He established BioMar-Sagun Company in order to meet the need of fish feed in Turkey and the Middle East in 2016.

 

In 2018, He established Black Sea Salmon facilities, a significant value of our country and introduced this product into the world market.